Image from Yorkshire Post below: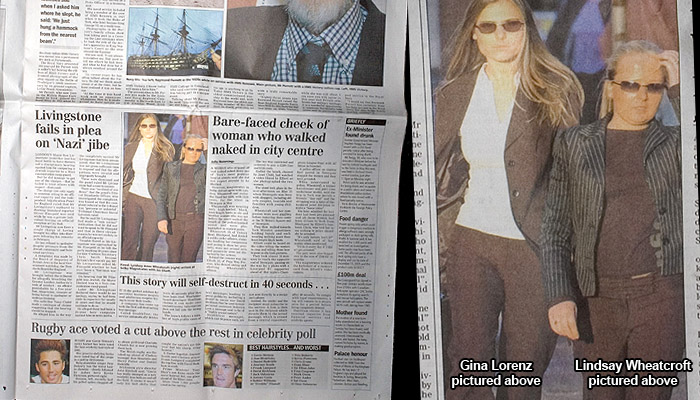 Read the article published in Yorkshire Post below:
Bare-faced cheek of woman who walked naked in city centre
A WOMAN who stripped off and walked naked down one of York's most popular tourist streets said she did not expect anyone to be shocked.
However, magistrates in Selby did not agree with Lindsay Wheatcroft and yesterday fined her £250 with £125 costs, for the stunt in Stonegate in May.
Lindsay was wearing only high-heeled, black, knee-length boots as she and another woman who was not before the court walked the length of the pedestrianised street and were photographed in explicit poses.
Lindsay, 19, of Blackpool, had denied a public order offence, claiming fondling her companion and posing to show her genitalia were not sexual acts and passers-by were not disturbed by her actions.
Behind the camera was Gina Lorenz, 25, of Preston, who denied aiding and abetting Lindsay's offence.
She too was convicted and ordered to pay a £250 fine and £125 costs.
Earlier the bench, had watched a video filmed by Gina as she photographed the two women.
The stunt took place in the mid-afternoon on May 25 when Stonegate was busy with shoppers, including elderly couples, tourists and families with young children.
Lindsay and her companion were seen giggling before removing their oats as the St Helen's Square end of Stonegate.
They then walked towards York Minster, sometimes holding hands and each wearing nothing more than knee-length black boots.
Gina could be heard on the video telling the women to stop and telling them how to pose as she took pictures.
They took almost 10 minutes to reach the opposite end of Stonegate, pausing on the way for a photo with a Liverpool FC supporter ahead of that night's Champions League final with AC Milan in Istanbul.
A police officer on routine foot patrol in Petergate stopped the women and they were arrested.
When interviewed by police, Lindsay, a trainee hairdresser and part-time underwear model, said the trip to York was merely a friends' "day out" and he stripping was a spur-of-the-moment joint decision to make a "home video".
She later admitted the incident had been pre-planned and all three women had driven to York from Blackpool.
"It's only nature, isn't it?" Lindsay said of her nudity when questioned. "I'd do it every day if I didn't get arrested."
The pair were also bound over in the sum of £500 for 12 months.
The magistrates ordered the forfeiture of a memory card from Gina's camera.
Preview from York photo shoot as mentioned above (picture by Gina Lorenz):